The last post talked about my love for the female form, and my appreciation for the Rockabilly culture's tendency to embrace those curves. But I would hate to just leave you with an abstract thought, and no path to get from point
A
to point
B
... !!
Ladies ... I think we can all agree that we would love to look like
Sophia Loren
, but I can promise you
honey
, she didn't get this fabulous body by running on a treadmill or sweating on an elliptical machine for an hour everyday. And she certainly didn't live off of bird seed and low-carb, gluten free sawdust bars. This woman ate Italian food, drank red wine (both in moderation) ... and flaunted her best features like a pro.
The French actress,
Catherine Deneuve
once said,
"You have to choose between your fanny and your face."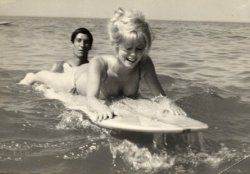 I think this quote is particularly interesting.
In some ways, I totally agree with her. Have you ever seen a girl with too little body fat, whose face looks like the sagging skin of a malnourished woman twice her age? A little extra body fat really does fill your face out in a way that no Botox or face lift will ever achieve.
But we also want to keep those curves tight and bouncy, yes? Not droopy and sagging.
So how about this ...
I'll tell you my secrets, if you tell me yours?
Then maybe us ladies can help each other to figure out the best way to maintain those curvaceous bods. Fair enough?
1. Wear High Heels, Damn it!
"For every centimeter of heel you lose a kilo in weight," according to
Marina Rinaldi
" - Words to live by. Wedges work too, if you don't feel like committing
"shoeicide"
while walking the parking lots of those day long car shows.
2. Highlight your Waist
Whenever possible, opt for dresses with high waists, that cinch to give you that "hourglass figure" so sought after by the 1950's starlets. Belts are good too ... Just make sure the width of the belt is flattering with that particular outfit. Sometimes you have to experiment before getting just the right fit.
3. Show Off your Best Features
I've always had really strong legs from a background of dancing and (refer to number 1 ) ...walking in high heels. Plus, my favorite tattoo just so happens to be on my left thigh. Therefore, I typically like to flaunt the gams.
But we are NOT all created equal
. My
best asset
is not the same as my
best friend
's. So we accentuate different things. Obviously!
But like I said before, running and slaving away on the elliptical will not necessarily give you that Pin-Up-esque figure. It's good to get some quality cardio in every now and then, but if you over do it, you'll end up looking more like an athlete ... which is fine, but not really what you're going for? My secret is to strive for the dancer's body.
I used to dance, and that was by far the best shape I've ever been in. So rather recently I started going to a "barre method" class 4-5 times a week. It's one hour of ballet inspired exercise a night, and it's SO much fun because I get to stand at the barre again, sculpting long, lean muscle with a group of like-minded ladies. I LOVE IT. :)
And the best part ...
I've always suffered from "flat butt syndrome" .... and now, I'm seeing some significant booty benefits!
Plus, this will make you strong AND flexible. Best of both worlds, eh? ;)
I personally prefer
The Daily Method
. They are located in NY, San Fran ... and coming soon to Austin!!
So there you have it. I've spilled the beans. Those are my secrets .... care to share yours??