Now don't get me wrong, I absolutely
adore
spotlighting Pin Up girls from the past and present, and I will continue the "
Around the World in 80 Pin-Ups
" section of my blog come hell or high water!
But I feel it's only fitting that I give those hunky Rockabilly boys a "
shout out
" as well. What do you say?
So with that said, I'll start my "
A Hunka Hunka Burnin' Love
" series with a charming and strikingly handsome man who holds a very special place in my heart ...
Paul Newman.
He may not be "
Rockabilly
"
per se
... but I think his style influenced the Rockabilly scene immensely.
And besides ... those blue eyes are worth talking about, no matter what crowd he fell into. ;)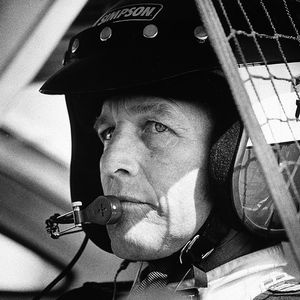 So aside from being gorgeous, and a phenomenal actor in films ranging from
Cool Hand Luke
,
Cat on a Hot Tin Roof
, and
The Sting
... he was also a huge auto racing enthusiast!
(And I'll be damned if "us Rockabillies" aren't all a bit enthusiastic about fast cars and the smell of nitrous oxide!)
He was a frequent competitor in the
Sports Car Club of America
, he drove in the
1979 24 Hours of Le Mans
in Dick Barbour's
Porsche 935
and finished in second place, he drove for
Bob Sharp Racing team
, and even eventually owned his OWN racing team!
Talk about a "
Man's Man
" !!
Check out the video below...
It's a great re-cap of his acting and racing career...
and a wonderful excuse to listen to his sexy voice for 5 or so minutes. Enjoy!