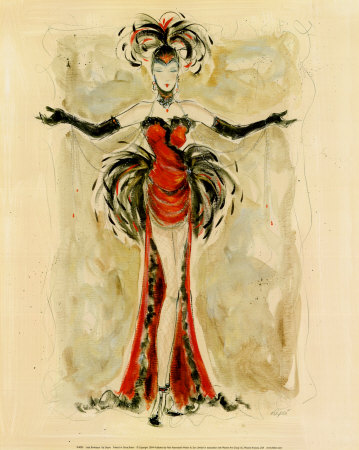 That is the question ... ??
Last night I had the pleasure of introducing two girlfriends, who are visiting from Berlin, to the wonderful world of
Burlesque
here in
San Francisco
!
Last night they debuted "
Dangerous Curves Ahead
, a troupe from Brooklyn that I've seen multiple times on the East Coast.
Their style is a bit more comedic than most, but their acts are typically hilarious.
Luckily, the Germans thought the performers were a riot! :)
Especially "
Scotty the Blue Bunny
," a rather tall man who seems to be an SF burlesque staple in a blue lycra bunny suit and 9 inch heels!
Aside from a homeless man passing out on his bar stool (EMS to follow) ... Some much needed laughter ... And the always appreciated "tassel twirling," the girls and I had some interesting conversations.
Their question to me was,
"Jenny ... why aren't you up there ?"
And I guess I don't have a really good answer for this ... !!
(Hence this blog post) ..
The truth is, I do know how to shake it - I would LOVE to be up there on stage - And I don't see anything wrong with that ...
Other than the fact that I'm an executive in a corporate environment by day.
So what do you think? Can you have a career by day, and an audience at night? I feel like, if made to choose between the two, I would have to go with the career... obviously.
But do you think it's necessary to choose? In my opinion, this is ART!
Is it wrong to climb the corporate ladder AND be an artist?
I think not.... but I'm sure there are plenty of people with a different opinion. What do you think???